One of the highlights of the year for the Murphy Centre is our annual Achievement Night. On June 8th graduates, staff, faculty, and community members of the Murphy Centre's academic program partook in a special evening to celebrate the accomplishments of the newest graduates of 2023.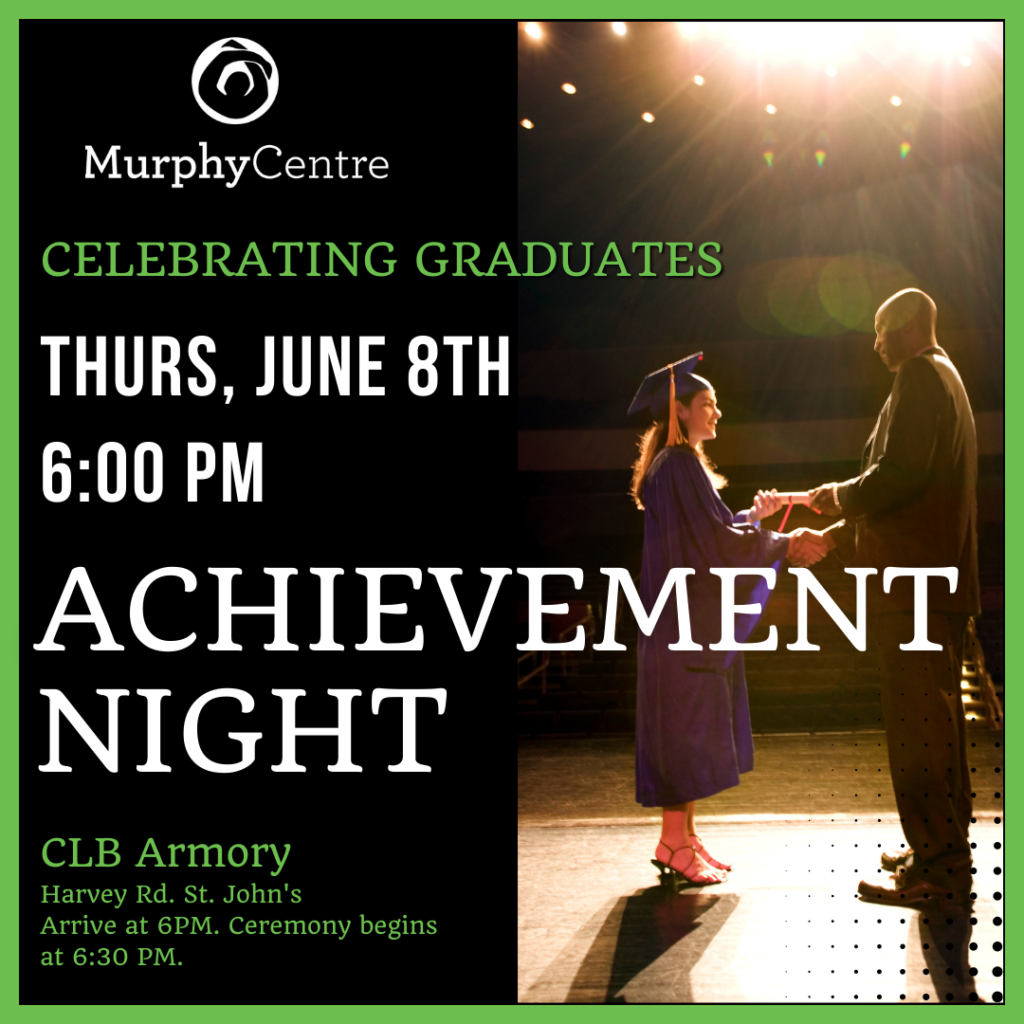 After having no Achievement Night in 2020 and very scaled-down, socially distanced events for the next two years, our community planned Achievement Night 2023 as an especially joyful celebration. For the first time since 2019, Murphy Centre staff, participants, and guests returned to the CLB Armory for a catered, sit-down dinner and an evening of memories and tributes.
Traditionally, the Centre has handed out certificates to graduates of the ABE and high school credit programs recognizing their accomplishments. This year, for the first time, those who have completed our GED program were also honoured during the ceremony. It was exciting to bring everyone together to share this recognition.
Over 60 participants graduated from the Murphy Centre's academic programs during the 2022-2023 school year. While not all were able to attend Achievement Night, it was a pleasure to celebrate the accomplishments of the many who were there. Those who could not attend were honoured in absentia by having their names printed in the evening's program.
Achievement Night is much more than just a graduation ceremony. We welcome guests representing our community partners who support the Murphy Centre, including the provincial government. This year we were honoured to have an inspiring message by Greg O'Leary from the Department of Education. But the focus of Achievement Night is not on the Murphy Centre staff or distinguished guests – it's always on our participants.
The reflections shared by current and former participants are always a highlight of the event. These speeches tend to be short, simple, and straight from the heart. Participants focus on the paths in life that led them to the Murphy Centre, the obstacles they have overcome, and the successes they've achieved.
This year we were treated to reflections from three former graduates – Cherie Squires, Melvina Wall, and Stacey Seward — and three participants graduating this year: George Humby, Florina Stroia, and Taylor Fleming. As always, everyone in the audience was deeply moved as these people shared their stories.
Another highlight of the evening is recognizing our award winners. The Murphy Centre has been fortunate to receive a number of scholarships and bursaries from individuals and organizations who wish to support our participants in reaching their goals. Some bursaries were awarded during the school year, while most of the scholarships were presented in person during the Achievement Night ceremony. This year's winners were:
Award
Winner
Cabot Speakers' Bureau – Murphy Centre Bursary
Cindy Denief
Patrick Hearn "True Grit" Bursary
Ashanti Agyemang
Cindy Denief
Stephanie Jordan
Musa Kabasele
Nicole Lawlor
Michael Noseworthy
The Society of St. Vincent de Paul — St. Teresa's Conference Bursary
Cassie Power
Aly Walsh Memorial Scholarship
Britney Pitcher
Brother Brendan Healey Memorial Scholarship
Neil Murphy
Cassie Power
Dylan Bradbury
Jeffrey Steiner Memorial Scholarship
Stephen Cooper
Cindy Denief
Robin Ivany
Musa Kabasele
Mary Ellen Doyle Award
Taylor Fleming
The Murphy Centre Board of Directors Scholarship
George Humby
Patrick Hearn True Grit Scholarship
Tessa Howe
Florina Stroia
Many of these scholarships are given in memory of people to whom the Murphy Centre was important, including three former instructors (Bren Healey, Dave Murphy, and Jeff Steiner). As current staff members introduce these awards and the winners during the Achievement Night ceremony, it's not unusual to hear a mention of how much Bren, Dave, or Jeff would have enjoyed teaching these particular students, and how proud they would have been to see them winning these awards.
As at any graduation ceremony, after the formal Achievement NIght program ends, there are the informal moments when graduates pose with their friends, family members, and favourite instructors for photos that will hold this occasion in their memories forever. Staff and participants exchange hugs and handshakes, and shed more than a few tears, as we mark this important milestone in the lives of our learners and wish them every success in the future.