The Murphy Centre is an awesome place to work. When employment opportunities arise, they will be posted here.
The Murphy Centre is a community-based agency, committed to providing participants with effective, integrated academic, career, and personal development opportunities since 1986.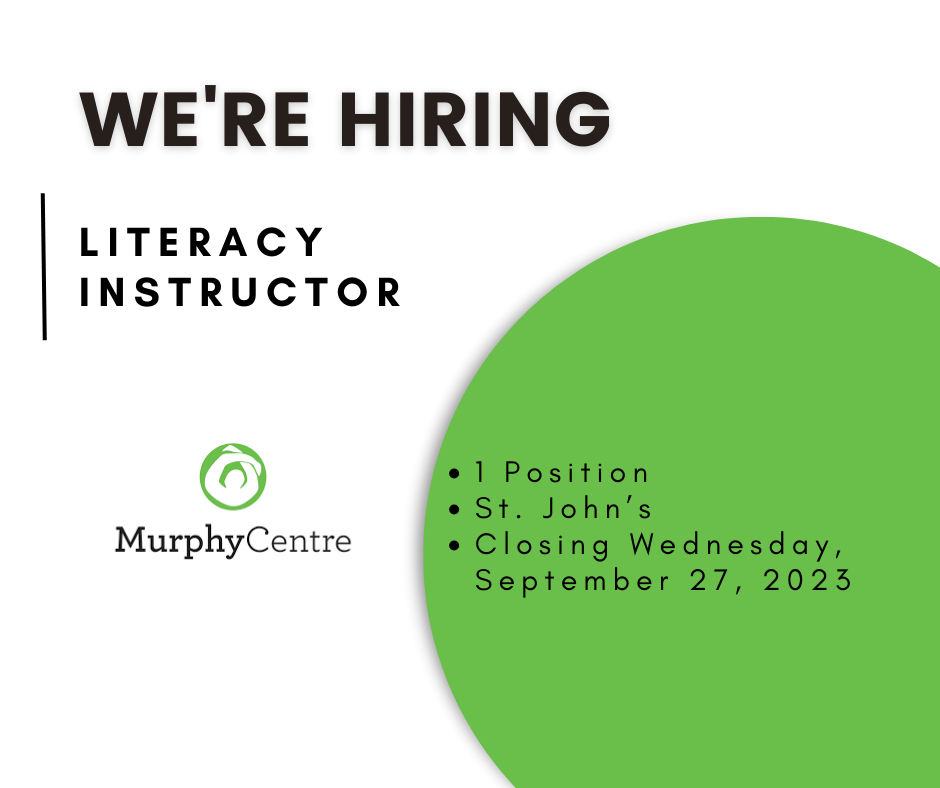 LITERACY INSTRUCTOR
The Murphy Centre is a community-based agency committed to providing participants with
quality academic, career, and personal development opportunities.

Job Title: Literacy Instructor

Location: St. John's

Job Type: Full-time, term position until February 29, 2024, with the possibility of extension.

Salary: $53,000 – $62,000 annually

The Murphy Centre is seeking a passionate and dedicated Literacy Instructor to join our
provincial literacy team. As a Literacy Instructor, you will play a crucial role in empowering
adults to improve their literacy skills, providing them with the tools they need to succeed.
Working in a team environment, the Literacy Program concentrates on adult foundational
literacy, numeracy, digital literacy, and life skills. In partnership with The Gathering Place
and with funding from the Department of Education, the Literacy Program is delivered
onsite at The Gathering Place.

Responsibilities:
Promote and recruit for the Literacy Program.
Conduct assessments to determine learners' literacy levels and learning needs.
Develop and implement effective literacy instruction plans for participants.
Create a supportive and inclusive learning environment.
Adapt teaching methods and materials to meet the diverse needs of participants.
Provide one-on-one and small-group instruction.
Monitor and track participant progress, adjusting instruction as necessary.
Collaborate with other instructors and staff to improve program effectiveness.
Develop partnerships with other community organizations to enhance programming
Stay current on best practices in adult literacy instruction.
Foster a positive and respectful learning atmosphere.
Maintain accurate records of participant attendance and progress.
Assist with program evaluation and reporting.

Qualifications and Characteristics:
Proven experience in adult literacy instruction (asset)
Strong understanding of literacy assessment tools and methods.
Excellent communication and interpersonal skills.
Patience and empathy when working with participants from diverse backgrounds.
Knowledge and experience working with populations with complex needs.
Ability to adapt teaching methods to accommodate different learning styles.
Strong organizational and record-keeping skills.
Commitment to promoting adult literacy and lifelong learning.
Cultural sensitivity and awareness.
Proficiency in relevant educational technology and software.
How to Apply:
Interested candidates should submit the following documents:
A cover letter detailing your qualifications and experience.
A current resume or curriculum vitae (CV).
Contact information for at least two professional references.
Resumes will be accepted until Wednesday, September 27, 2023.

Please mail, fax, or e-mail your resume as follows:
Hiring Committee
Murphy Centre
Fall River Plaza
320 Torbay Road, Suite 201
St. John's, NL A1A 0L3

Fax: (709) 579-8022

E-mail [email protected]

While we appreciate all expressions of interest, only applicants to be interviewed will be contacted. 
Thank you.
---